Winter is hanging on, but that won't stop avid fishermen from getting ready for the spring thaw. In fact, some are already dressing up and testing the waters, moving around the rivers and lakes to find a good fishing hole. Before you join them, take note of these few tips to make sure that you're appropriately dressed, following the law in your region, and exercising good judgement this upcoming fishing season.
Legislation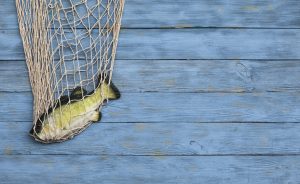 In December, the EU fisheries council agreed to limit the number of fish which recreational fishers can catch in 2019. Quotas increased for some fish stocks, such as cod, plaice, and sole in waters between Denmark and Norway. However, lawmakers are limiting some stocks to one fish caught per day. Some criticised the limits, noting that some of the quotas exceed scientific advice. Be sure to read the local laws for your area to make sure you are up-to-date on any changes. Local rules often include limits on the type and number of rods, weight, or bait which a fisherman can use. Landing nets shouldn't contain metallic material. Some area waters are off-limits to anglers during certain months, to allow fish to spawn in peace. If applicable, don't forget to renew your rod license. With all the legalities squared away, you're ready to gear up for the season.
Gear
Be sure to give your waders a good once over to ensure that they have no holes, and they are a good fit. Repair or replace as necessary for comfort and functionality. Also, check your boots. There's no sense in finding a hole or problem with a boot after you reach the fishing waters. Change laces or studs, if required. This early in the fishing season, the weather can feel like winter time. Better to err on the side of caution by considering thermal underwear, jogging pants, and other warm clothing which will protect you from the elements. Make sure that your clothes have pockets for money, snacks, or medicine. Look over your rods, lines, and flies also. After all, you need tip-top equipment to make sure you catch a good haul.
Safety
Safety's first when you're fishing. Watch the weather report before you leave your home. Wild seas can topple a boat, cause tidal waves, and send waters above high tide marks. So, if you're a newbie, it's best to go out the first time with someone who knows the best places to fish. Studded boots are helpful for slippery rocks, but still, remember to walk carefully across sites covered by water. If you do have an accident that requires non-emergency medical attention, contact a doctor through livi. Pack up immediately and call it a day, if the weather takes a turn for the worse. Whichever fish you're seeking, the salmon, carp or trout will be there for you to fish another day.